Game Rules:


- Team size will be 3's (atleast for the first go around)
- Games with be Bo3 and the final games will be Bo5
- Competive mode
- Rounds should be set to 9, armor damage on and falling damage on.
- An admin has to be present for games.
- A demo of each game is required, and are to be ready if asked to send them. (admins present should take screenshots of each match. (Reason: anticheat won't be forced on servers, due to its stopped development for new clients and operating systems.)
- Failure to provide demos upon request will result in an automatic FF.
- Map List is still to be determined, should be posted in a few days.
- Games should be played in a timely manner, and be fair for both teams.
- Server will be tx based as it is a central point for the US.
- Mumble is not required for games, but is encouraged as it is good for communication.



About This Mod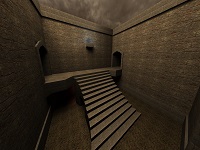 Rocket Arena 2 is a team based game in which each player spawns randomly around an arena styled map. Each player spawns with 100 health and 100 armour. Once the countdown finishes you are to use whichever weapon you want to eliminate the enemy team.
The winning team gets awarded one point for each round won. Player scores are added up by every 100 damage you do.
You should also note that any self explosions from a weapon will take off your armour but not your health, and fall damage is a thing, so watch your health before you leap!